AcroDance Pre School App
The AcroDance PreSchool is a full syllabus for physical literacy for young students age 3 - 5 years old.
Teachers will receive a tool box and the AcroDance PreSchool App (Android or iOS)!
Included in the Tool Box:
Included in the AcroDance PreSchool App:
6 Session Lesson Plans (written explanations, videos of every exercise, links to previous and next progressions for every exercise, learning objectives for physical literacy for every exercise)

Helpful information on setting up your program (how to attract students, equipment necessary, how to structure your classes, and more)

Substitute planner

Music for applicable exercises (with a music player to use right from the app)

Report Cards and Certificates

'Analyze Student' feature

Advertising (ready to use posts for social media)

Colouring pages (print colouring pages for all of the stations to give to your dancers)

and so much more!
The app is delivered on iOS (through the App store) and/or Android (through Google Play Store), as well as an online version. This purchase includes up to 3 codes for the app (to be used at the same studio). Purchasers can apply for addional codes after August 1st.
About the AcroDance PreSchool curriculum: This curriculum focuses on physical literacy. This is not a program designed to teach students back handsprings and walkovers. You can expect to find skills like: Pike Position, Skipping, Marching, Pre Cartwheel, Plié, Tendu, etc. The focus of this program includes learning the acro positions, locomotive skills (jumping, hoping, etc), balance skills, classroom behaviour skills, movement concepts, cooperation and social skills. The magic is in the repetition, the report cards, coloring pages, imaginary play, fun and games. This is the type of curriculum you could give to a brand new teacher, and have them be successful. If you are just looking for a list of 100 skills, this probably isn't the right program for your studio. (Check out the Acrobatic Arts Syllabus if this is what you're looking for!)
Our Guarantee: If you are not totally satisfied with AcroDance PreSchool, refunds will be granted minus the cost of shipping. NOTE: The cost to ship the Tool Box is approximately UK: £50 / USA: US$30 / AU: AU$80 / CAN: CA$30 each way from Canada. If you would like to return this product you will be responsible for the shipping costs (both ways).
What's in the App?
What's in the ToolBox?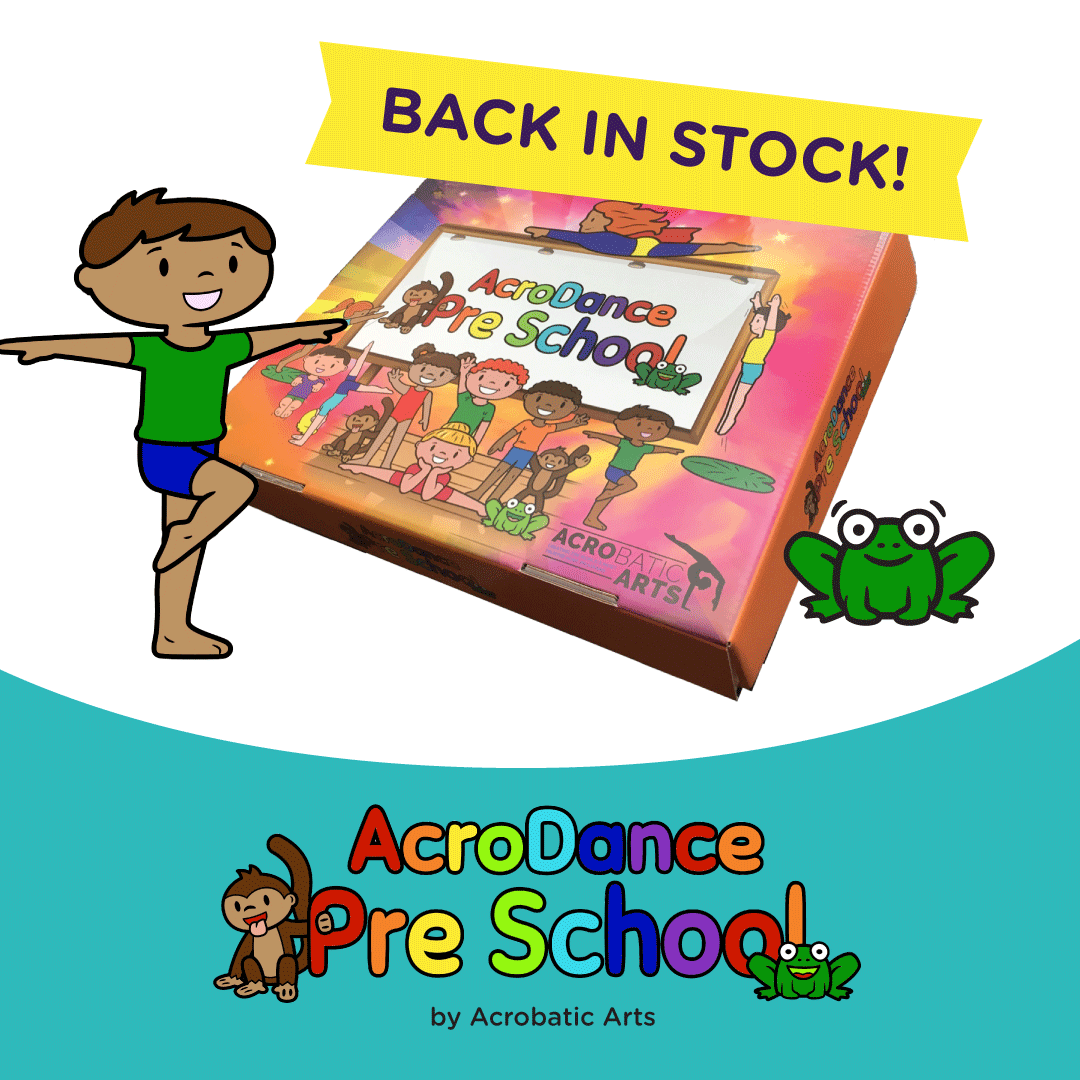 The following devices are NOT supported:
Android version 5.0 (Lollipop)
iPad 1, 2, 3, 4
iPad mini 1
iPhone 5 and older

The following devices are all supported:
All other android devices
iPhone 5s or newer
iPad air or newer
iPad mini 2 or newer
iPad pro (all)
iPod touch 6G or newer