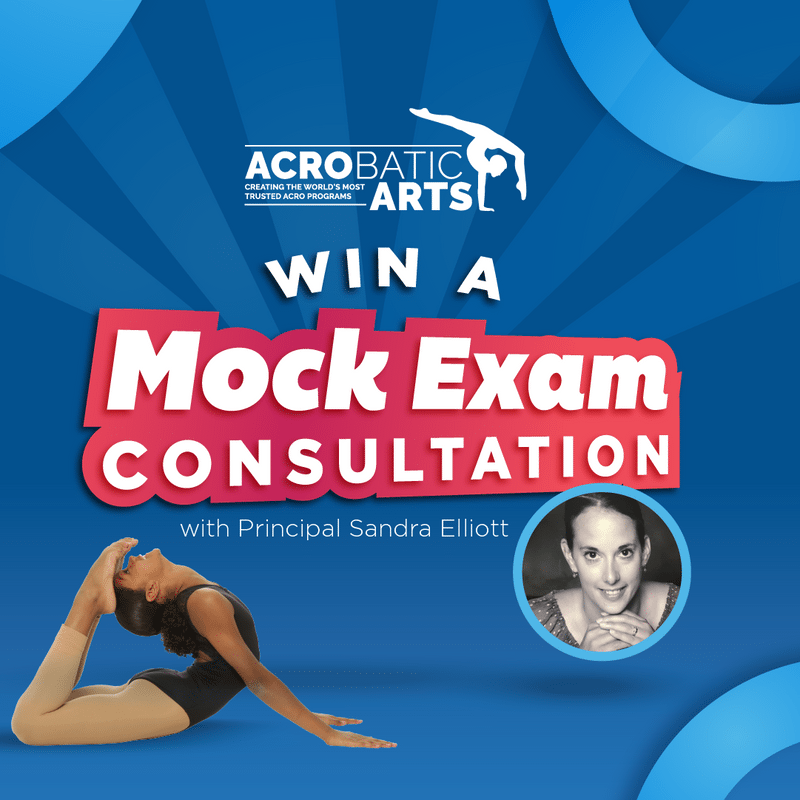 Win your Studio a Free Mock Acro Exam Consultation with Acrobatic Arts Principal Sandra Elliott!
Getting started with studio exams can seem daunting, but what if you could get some help from an expert?
We've got something just for you!
A chance to win a free 1-hour mock exam in advance of your first Acrobatic Arts in-studio exams.
Mock exams allow students to shake off their nerves and prepare physically and mentally for the actual exam. They also give teachers a chance to suggest last-minute improvements. Could you also imagine having the opportunity for direct feedback from the head of syllabus development for Acrobatic Arts?
Your deposit is your entry to win! No other action is required.
Contest Rules + Regulations
-Must be registering for a single studio exam set (Online or In Person) for the first time to qualify to enter.
-Deposit to hold your exam date must be received no later than 11:59pm EST on Feb 28/23.
-Date and time of the mock exam must be at least two weeks before scheduled exams and organized with respect to Miss Sandra and the studio's availability.
-Acrobatic Arts will facilitate all arrangements.
-Mock exam will be conducted online.
-Mock exam will be a maximum of 60 minutes (1 hour).
-Info and guidance will be provided to the winning studio well before the mock exam.
-The winning studio will be chosen in a random draw from all of the entries.
-One entry per studio.
-The deadline to enter is 11:59pm EST on Feb 28/23.
-The winner will be announced and contacted directly on Mar 7/23.
*If you have questions regarding single studio requirements, refer to the Acrobatic Arts Examination Handbook
Already booked exams? Get $100 off your next set!
You know first-hand the value of the Acrobatic Arts Examiner feedback for not only your students but yourself!
Register and complete an exam set in 2023 and get $100 off your next exam set in 2024!
In order to qualify:
-Deposit to hold your exam date must be received no later than 11:59pm MST on Jun 30/23.
-Exam sets must have 30 or more entries.
-Contact Acrobatic Arts Admin at admin@acrobaticarts.com to activate offer
The $100 discount will be reflected in the local currency of your studio.
Contact admin@acrobaticarts.com if you have any questions!