2023-2024 Master Classes
Canada - Calgary, AB - Evergreen Community Spaces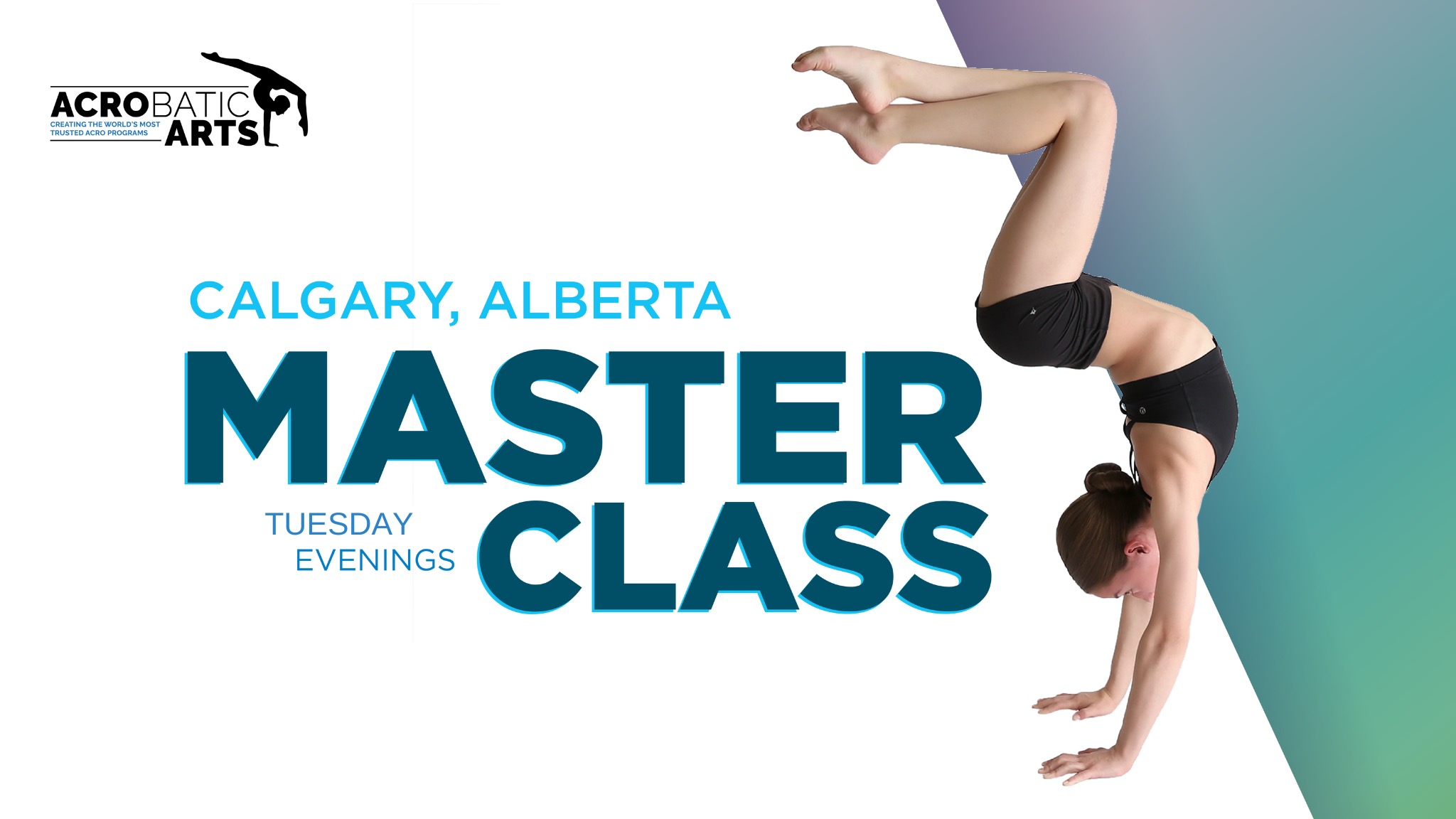 Acrobatic Arts Master Classes Sept 2023 – June 2024
Registration now open!
Master Classes will be held on Tuesday Nights at Evergreen Community Spaces (709 8 Ave NE #2, Calgary, AB T2E 0S9).
Tuesday Night (Mandy Yip, Leah Holliday and Shelby Smook)
4:30pm-5:45pm
5:45pm-7:00pm

The classes will run the same lesson plans, dancers are encouraged to register for the class that works best for their schedule.
*Ratio of Dancers:Teacher will be no higher than 8:1 (Space is limited).
**While space permits
Costs: Classes will run from September to June with holidays observed (Minimum of 32 lessons). The yearly fee can be paid at registration or divided over 10 monthly payments. A registration fee of $25.00 is required at registration to hold a spot in Master Classes. This fee is non-refundable. Monthly payments will begin September 1, 2023. Dancers who pay in full at registration save the registration fee.

Auditions
Registration is only accepted after an audition video has been approved.
Please include:
- splits all 3 ways
- toes to head
- side aerial (or one had cartwheel, both sides if possible)
- back walkovers (both sides if possible)
- front walkovers (both sides if possible)
- hold handstand on the wall (minimum 1 minute)
- hold handstand in centre (as long as the dancer is able)
- 1 or 2 skill(s) of choice
General Information about Acrobatic Arts Master Classes
Acrobatic Arts will be offering weekly lessons beginning in September 2023 for students who excel at AcroDance, and want more training, but also want to remain in their home studio. These classes will be taught by Mandy Yip, Leah Holliday and Shelby Smook and will include students from many different studios. The ratio of teachers to dancers will not exceed 1:8. Dancers will be accepted into this program by audition only.
Dancers will be expected at all classes, except where classes conflict with 'Home Studio' competitions and events.
Dancers will be monitored closely for progress in all classes. Acrobatic Arts reserves the right to change a participant's level placement if necessary.
Forms:
All students attending classes must sign the waiver upon acceptance, NO EXCEPTIONS
Studio Permission forms must be received before dancers will be admitted into classes in the fall. No exceptions.
Attire:
Dancers must attend class in fitted dancewear with bare feet. (2 pieces, tights, shorts acceptable. Athletic undergarments and/or tights must also be worn if required)
Required equipment: All students must bring to every class:
Location: All classes will take place at Evergreen Community Spaces (709 8 Ave NE #2, Calgary, AB T2E 0S9)
Cancellations: 1 month write notice is required to withdraw from Acrobatic Arts classes. Refunds will be granted minus a $50.00 administrative charge. Written notice can be sent to Admin@AcrobaticArts.com.

The Rules:
Dancers must be enrolled in an Acrobatic Arts Certified studio (at least one Acrobatic Arts Certified teacher must be employed by the studio)
Dancers must remain In Good Standing with their home studio, and follow the rules laid out by the studio owner (Each studio will set the rules for their students. For example: the dancer must maintain good attendance, take at least 3 classes/week and have all accounts paid up to date.) Studio Owners can contact Acrobatic Arts at anytime, and have a dancer removed from class if they are not adhering to the rules set by the studio.
Acrobatic Arts Master Classes are technique classes only. There will NOT be opportunities for competition, recital or performances

The Benefits:
Dancers will receive consistent, superior training, with other dancers at the same level, while continuing their dance training at their home studio.
Acrobatic Arts Certified Teachers are invited to attend these classes anytime to get ideas, tips and techniques to bring back to their studios. Mandy will also be available after class to discuss acro with the teachers. These classes are intended to benefit both the dancer and the teacher/studio.
Dancers will learn true AcroDance; skills that are suitable for the stage, not a sprung gymnastics floor.
Dancers will prepare for, and enrol in, Acrobatic Arts Exams.
Class Information
4:30pm-5:45pm
| | | |
| --- | --- | --- |
| Ability Level: | | By Audition Only |
| Classes: | | 4:30pm-5:45pm |
| Dates: | | September 2023-June 2024 |
| Teacher: | | Mandy Yip, Leah Holliday, Shelby Smook |
---
5:45pm-7:00pm
| | | |
| --- | --- | --- |
| Ability Level: | | By Audition Only |
| Classes: | | 5:45pm-7:00pm |
| Dates: | | September 2023-June 2024 |
| Teacher: | | Mandy Yip, Leah Holliday, Shelby Smook |