HOOP Theory LIVE Online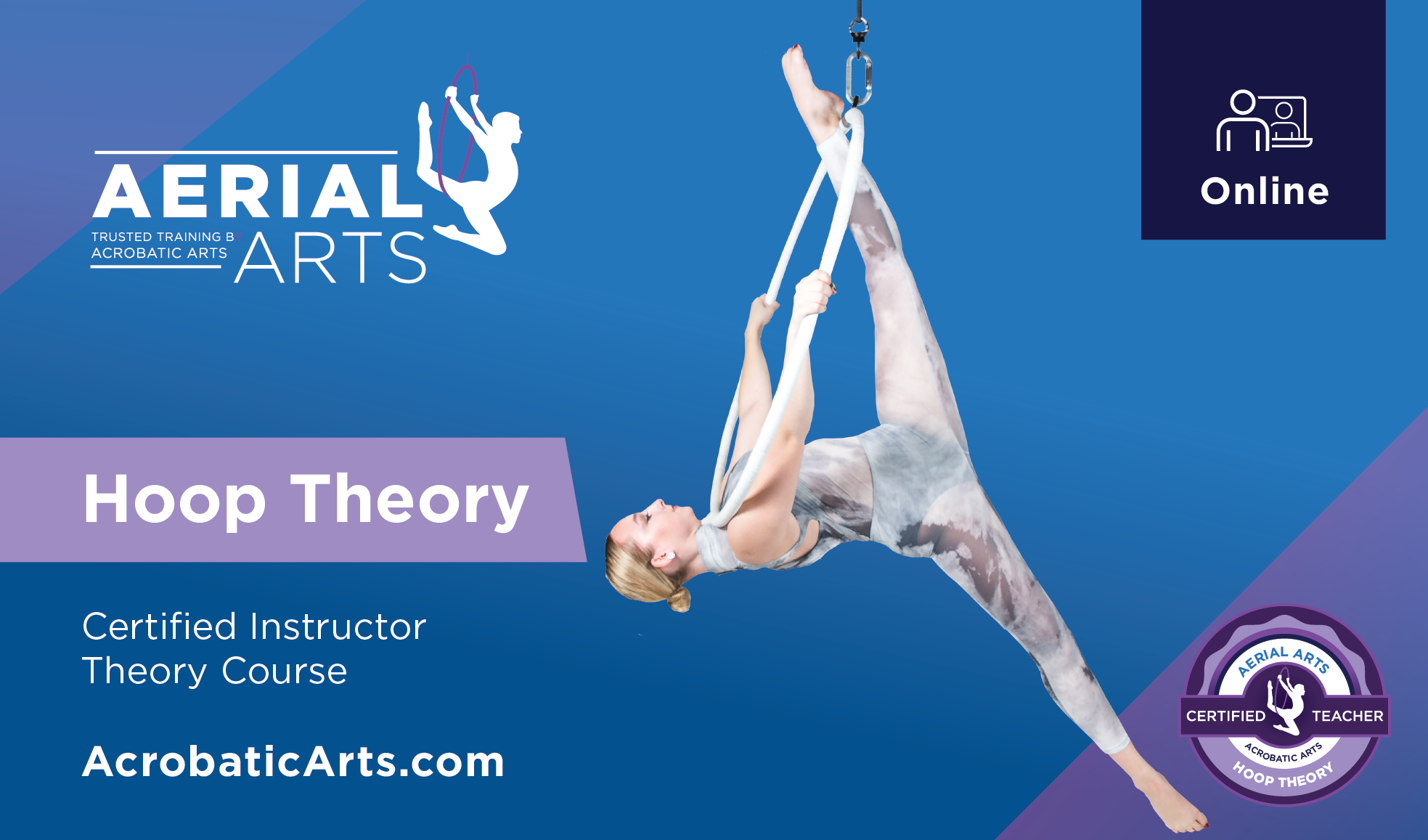 Aerial Arts Hoop Theory starts at the very beginning, teaching instructors everything they need to know about correct placement and technique so their students will have the building blocks to progress safely from one level to the next. Aerial Arts Teacher Training and Certification courses provide extensive training in spotting and progression so the teachers feel confident, knowledgeable and inspired to teach Aerial Arts.
The course is two days, 3 hours each day. During the course you will:
-Learn the first 7 levels of Aerial Arts syllabus; Primary - Level 6 including balancing, postures, spinning, strength and endurance
-Understand the requirements of each level
-Learn how to safely teach and spot each skill in the syllabus
-Learn anatomy and stability exercises to assist in the training of Aerial Arts
-Learn safety and rigging tips for Aerial Arts
-Learn how to maintain your apparatus
-Learn how to implement Aerial Arts in your studio with the use of report cards, progress charts and certificates
You do not need any apparatus or a demonstrator to attend the Aerial Arts Hoop Theory course, the only equipment you require is a small piece of rope to learn basic knots. You will learn by watching our course conductors spot and demonstrate. At the completion of your course you will receive a certificate and a certified Aerial Arts Hoop Theory badge. The course also includes a manual and marketing material. Following this, the next step is certifying in our Aerial Arts Hoop Practical course.
***Please note: This course does not certify teachers to enter students into exams. Teachers must be certified in the Hoop Practical course in order to enter dancers in Levels Primary through Level 6.
Pre-requisites:
Dance / Acrobatic teaching qualification and/or professional experience
Teachers must be a minimum of 18 years old to attend the course.
Home - ONLINE!, Your
LIVE:
May 20 to May 21
---
Home - ONLINE!, Your
LIVE:
July 10 to July 11
---
Home - ONLINE!, Your
LIVE:
August 11 to August 12