Module One - LIVE Online!
Module One LIVE Online (AAC1)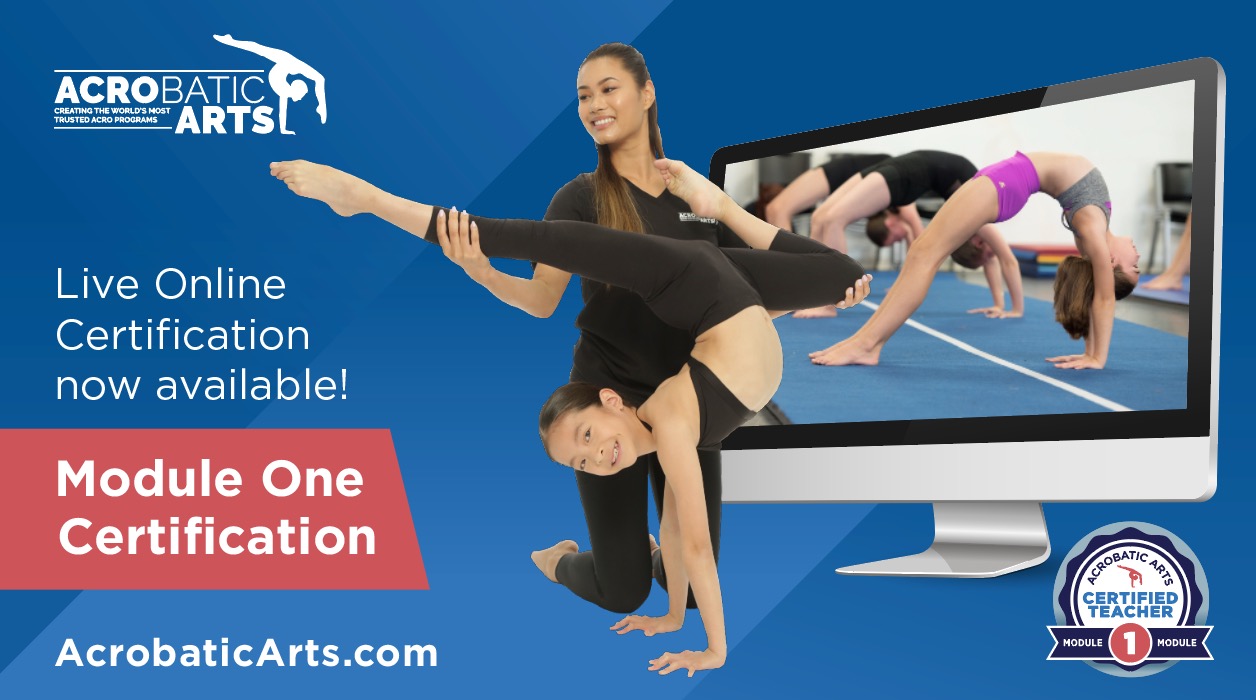 Live on Zoom our expert course conductors train and certify dance instructors to teach the Acrobatic Arts syllabus in the dance studio. We will have a dancer with us in our studio, and you will be required to have a dancer with you in your studio as we work through the curriculum while focusing on progressions, technique, spotting skills, in an intimate and focused educational experience. Teachers interested in participating on this platform must have a willing student with ​them during the course whom they will spot. The demonstrator should be capable of a strong bridge recover, handstand, and cartwheel.
This course covers the first half of the syllabus, from Primary to Level 6. During this course, teachers will learn proper placement and technique for the foundations of AcroDance, including handstands, cartwheels and bridges. Teachers will learn proper spotting techniques, basic anatomy, AcroDance transitions and lesson planning. The skill level for this course ends at level 6 in the Acrobatic Arts Syllabus (back walkovers, front chest stands, assisted handstands) and is prerequisite for Acrobatic Arts Module Two. Module One Certified teachers can register dancers for exams up to Level 6.
Online Study: This course requires the completion of an Online Study before the course. The study will be emailed out to registered teacher 7 days before the course begins (please keep an eye on your spam folder). Completion of the Online Study is required to attain certification with Acrobatic Arts.
Prerequisite: The prerequisite for the Module One Course is a solid understanding of basic Ballet technique and terminology. It will be expected that all teachers understand the progressions and placement of these techniques prior to coming to the course. This can be proven a number of ways.
Prerequistie Options (1 needed):
1. Assistant Teacher Certification from Acrobatic Arts and be 18 years of age or older at the time of the Module One course.
2. Teacher Certification from a reputable training program (like the RAD, DMA, ADAS, CSTD, University Degree in Dance, etc)
3. A letter of recommendation from a dance professional who holds status with a reputable training program
4. By submitting a video of students you have taught performing a routine or combination showcasing exceptional technique (does not have to be acro).
5. Teachers with extensive gymnastics training or substantial understanding of the human body can contact us to confirm that you qualify for this program.

Licensing Fee: Teachers who certify with Acrobatic Arts are eligible to use the 'Acrobatic Arts' name in their marketing and promotions. Certified teachers are also eligible to utilize our logo, syllabus, systems, resources and access to our online forums and the 'certified members' area of our website. Certified teachers can enter dancers in Acrobatic Arts Examinations. For these services, Acrobatic Arts charges an annual licensing fee of US$89.00 payable on the anniversary of your certification. Year one of your licensing fee is included in your course registration cost. Failure to keep annual licensing fee up to date will result in loss of certification, licensing and access to Acrobatic Arts resources.
Teachers who register in 2023 will receive a code to purchase the AcroDance Resource Center at a discounted price!
---
---
---
---
---
---
---
---
---
---
---
---
---
---
---
---
---
---
---
---
---
---